You don't need it, you probably can't afford it, but boy do you want it…
I use my laptop much more than my desktop PC these days. But there are some things that I would never trust to my laptop… they just somehow don't seem powerful enough, or easy enough to work with… I don't know, maybe I'm old fashioned and prefer to be chained to my desk to do proper work…? And in terms of laptops that are performant and look good, you are pretty much left with only one choice, unless you're a gamer… But when I saw this, I kinda thought I could use the ASUS Zenbook 3 Deluxe. Yes, it's pricier than the base Apple AirPodBook thingy, but it's not shiny white plastic. And it runs Windows…
.
Laptop, desktop, phone, tablet, phablet…
Personal computing, and indeed professional computing is getting filled with things that you probably don't need. Do you NEED to take your phone, laptop and tablet to work? Why not just sync everything with remote access? (oh yeah, that doesn't work because not every piece of software works on every device to the same degree…). So… How about taking your phone everywhere, which you probably do anyway, and using it as your desktop when you get rooted?
Samsung DEX: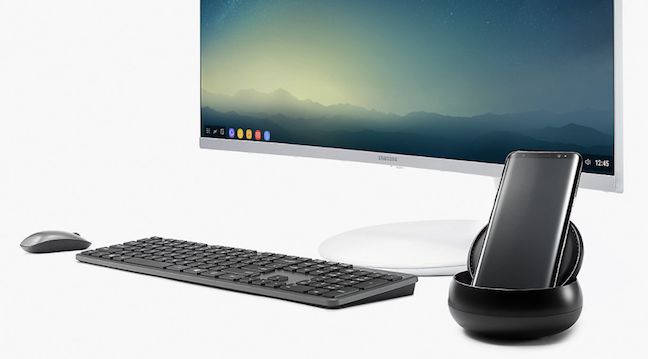 Everything in one place. Finally. Well, maybe not just yet, but it's good, and things can only get better.
For a full review, go here: Samsung Dex
(the photo above is from el reg's review)
Microsoft new Surface laptop
Microsoft has shown the world the new a new product in the Surface line. it will go on sale on the 15th of June. I really want one.
image from Windows Central