It's still summer, honest
I saw the first greengrocer stocking rhubarb at the weekend. And not the thick, stalky kind, but the thin, pink kind. So, while it's still summer, ahem… let's do a rhubarb and strawberry pie. Noms.
Ingredients:
For the pastry:
450g plain flour
1tbsp icing sugar
130g cold, unsalted butter cut into small cubes (and some extra to grease the tin)
90g cold lard, cut into small cubes (I know…)
1/4 tbsp salt
120-130ml cold water
1 egg, whisked with a splash of milk
For the filling:
750g strawberries, hulled (and large ones cut in half)
350g rhubarb, cut into 1cm pieces
1/2 – 1 tsp rosewater (whatever you prefer)
230g caster sugar
6tbsp cornflour
Custard for pouring over ;b
Method:
Butter a 20cm pie dish or tin (it needs to be 6cm or more deep)
Add flour, icing sugar and 1/4tsp salt to a food processor. Add the butter and lard and pulse until you have a breadcrumb-like texture.
Add the water, and continue to pulse until the pastry forms a ball.
Split the pastry into 1/3 and 2/3. Wrap in clingfilm, and put into the fridge for 30mins.
Combine the rhubarb, strawberries, rosewater, cornflour and a pinch of sea salt in a large bowl.
Heat the oven to 200C (220C non-fan).
Take the larger pieces of pastry dough from the fridge, and tap it out on a floured surface until it's about the same thickness as a £1 coin.
Line your greased pie dish with the pastry.
Spoon in the rhubarb goodness.
Roll the remaining dough to the same thickness as before, and cut into strips.
Layer the strips on top of the pie dish, being as fancy as you want!
Trim the edges, and egg wash the pastry.
Cook in the middle of a hot oven for 20 mins, then reduce the temperature to 180C (200C non-fan), and cook for a further 40mins until the pastry is golden, and the centre is bubbling and jammy.
Leave to cool, and serve with custard.
Apparently there's a tennis on…
In homage to all things tennisy, I figured I should do something with strawberries. Save for eating them on their own, the only way I can eat them is when they're on top of a cheesecake. I know…
Ingredients:
For the base:
250g digestive biscuits, crushed
150g unsalted butter
225g plus 3tbsp caster sugar
24cm springform tin
For the topping:
2tbsp cornflour
750g cream cheese
6 large eggs, separated
2 teaspoons vanilla extract
150ml double cream
150 sour cream
1/2 tsp salt
Zest of 1 lemon
Icing sugar for dusting
Strawberries to serve (or cook them gently in some sugar like the image below)
Method:
Mix together the biscuits, melted butter and 3tbsp of sugar.
Press into the springform tin, and put into the fridge for about 30mins to set.
Preheat the oven to 170 degrees/gas 3.
In a large bowl, mix together the cornflour and remaining sugar.
Beat in the cream cheese, egg yolks and vanilla.
Slowly pour in both creams, beating continuously.
Add the salt and lemon zest.
Whisk the egg whites to stiff peaks, then fold into the cheese mixture.
Scoop onto the chilled base.
Bake for 1 to 1.5 hours with the oven door closed (don't take a sneaky!), until the cheese is golden-brown on top.
Turn off the heat, and let the cake stand in the oven for a further 2 hours.
Open the oven door, and let the cake stand for a further hour.
Serve with strawberries, or other soft fruit, dust with icing sugar and serve.
Game, set, match.
Pitta and Thyme crispbreads
Apparently these are called Za'atar. Basically, herby, crispy pitta breads ;b You can use shop-bought pittas just fine, but you should really try and make your own – it's pretty easy. So, today, 2 for 1 on the recipe front…
Ingredients for 6 pittas:
250g strong white flour, plus extra for dusting
1 x 7g sachet instant yeast
1 tsp salt
160ml water
2 tsp olive oil, plus extra for kneading
Method:
In a bowl, mix together the flour, yeast, and salt. Add 120ml of the water and 1½ teaspoons of oil. Using your fingers mix the ingredients together. Gradually add the remaining water and oil until all the flour has come away from the sides and you have a soft dough. (You may not need all the water; the dough should be soft and not sticky.)
Pour a little oil onto your work top. Place the dough on top and knead for 5-10 minutes. The dough will be wet in the beginning but will form a smooth dough once kneaded. Once a smooth dough is achieved, place it into a clean, oiled bowl. Cover and leave to prove until doubled in size.
Preheat the oven to 250C/Gas 9 and place a clean baking tray or baking stone on the middle shelf.
When the dough has doubled in size, tip it out onto a work surface dusted with flour. Knock the dough back by folding it inwards over and over again until all the air is knocked out. Split the dough into 4-6 equally sized balls. Roll each ball into an oval shape 3-5mm thick.
Remove the hot tray from the oven, dust with flour and place the pitta breads on it. You may have to cook them in batches.
Bake for 5-10 minutes, or until they just start to colour. Remove them from the oven and cover with a clean cloth until they are cool.
Za'atar Ingredients:
3 pitta breads
3tbsp sesame seeds
2tbsp finely chopped thyme
2 tsp ground sumac
1/2 tsp flaky sea salt
Olive oil
Method:
Preheat oven to 180C/Gas 4
Heat a dry frying pan. Add the sesame seeds and toast them for a couple of minutes until golden brown.
Tip them into a bowl and leave to cool, then combine with the thyme, sumac and salt and mix.
Drizzle in the olive oil to make a thick paste.
Lightly toast the pittas in a toaster, just enough to puff them up a little.
With a sharp knife, slice through the centre (so they are half as thick, that is). Then slice each into two or three pieces.
Spread the za'atar paste onto the fluffy side, place on a baking sheet and bake for 12 mins. Enjoy when they are cool enough to handle, with a beer, or some hummus.
Nice.
American Pancakes – a la the domestic goddess
Fluffy American pancakes, smothered in maple syrup and bacon. Perfect for a Sunday morning lie in…
Ingredients:
1 tbsp baking powder
1 pinch of salt
1 tsp white sugar
2 large eggs (beaten)
30 grams butter (melted and cooled)
300 millilitres milk
225 grams plain flour
Butter for frying
Method:
The easiest way to make these is to put all the ingredients into a blender and blitz. But if you do mix up the batter by hand in a bowl, make a well in the flour, baking powder, salt and sugar, beat in the eggs, melted butter and milk, and transfer to a jug: it's much easier to pour the batter into the pan than to spoon it.
Heat a smooth griddle or pan on the stove.
When you cook the pancakes, all you need to remember is that when the upper side of the pancake is blistering and bubbling it's time to cook the second side, and this needs only about 1 minute, if that.
Image from eatlikeagirl.com
Negima Yakitori – Japanese BBQ chicken on a stick
A lot of Asian recipes in here – I'll try and remedy that in the next post… This recipe is in the hope that the last couple of sunny days don't end up being the highlight of the Summer weather.
Ingredients:
1/2 cup low sodium soy sauce
1/4 cup sake
1/4 cup mirin
1tablespoon sherry vinegar
2 tbsp sugar
2 garlic cloves, crushed
1 inch fresh ginger, peeled and roughly chopped
2 bunches of spring onions
1 tsp cornstarch
1 pound chicken thighs, boneless and skinless, cut into 1 inch pieces
Canola or vegetable oil, for cooking (although not really necessary if you're doing it on the barbecue)
1 tbsp toasted sesame seeds for garnish
Eight to ten 6-inch wooden skewers (don't eat these though)
Method:
Soak the wooden skewers in water for 30 minutes.
Cut the spring onions in half, right where the dark green tops meet the lighter bottoms.
In a small saucepan over high heat, combine the first 7 ingredients and the dark green parts of the spring onions.
Bring to a boil, then reduce the heat to a simmer. Cook for 8 minutes, until the mixture begins to thicken slightly.
Sprinkle the cornstarch on top of the sauce, stir well, and cook for another 1 to 2 minutes — the sauce will continue to thicken. Set aside to cool.
When the sauce is cool, spoon enough onto the chicken to coat it. Let it sit for 30 minutes or so to marinate.
Cut the lighter parts of the spring onions into 1 inch pieces. Take a skewer and thread a piece of marinated chicken onto it, piercing both ends to form a folded slice. Thread on a piece of spring onion perpendicular to the skewer. Continue alternating between chicken and spring onions in this fashion, until you've filled all of your skewers.
On the barbecue, working in batches, add the skewers. Cook for 2 minutes on each side, then begin brushing the skewers with the yakitori sauce.
Turn and baste the skewers every 30 seconds for another 4 minutes, or until the chicken is cooked through. Between each batch, wipe away any excess sauce to avoid burning. (The reason for suggesting a barbecue is because this can get really, really smoky…)
Transfer yakitori to a serving plate and sprinkle with toasted sesame seeds. Serve immediately.
And here it is, nom nom:
Image from food52.com
Nothing Nyan cat – Chicken Katsu
So I made this at the weekend – along with some plum sauce, but that's a different post. Really easy, and really easy to modify (and you don't need to drown the chicken in the sauce so it's really just some kind of fastfood chicken-dunking-finger type thing).
Ingredients:
1 tbsp vegetable oil
1 onion, peeled and chopped
5 whole garlic cloves, peeled
2 carrots, peeled and chopped
2 tbsp plain flour
1 tbsp medium curry powder
600ml chicken stock
2 tbs brown sugar
1 tbsp Japanese soy sauce
1 bay leaf
1/2 tsp garam masala
4 x small chicken breasts (flatten out to about 1cm to 1.5 cm to ensure even cooking)
100g flour, seasoned with lots of salt and pepper
1 free-range egg, beaten lightly
250g panko breadcrumbs
Oil for shallow frying
Short grain rice (or Japanese rice), pickled carrots, cucumbers, radishes or anything you fancy to serve
Method:
For the sauce:
Heat the oil in a small pan. Add the onion and garlic and sauté for 2 minutes, then add the carrots and sweat for 10 minutes with the lid on, giving the odd stir, until softened and starting to caramelise.
Stir in the flour and curry powder and cook for a minute. Slowly pour in the stock until combined (gradually to avoid lumps).
Add the sugar, soy sauce and bay leaf and bring to the boil, then reduce the heat and simmer for 20 minutes, so the sauce thickens but can still be poured.
Add the garam masala, then pass the sauce through a sieve (unless you prefer a chunky sauce).
For the chicken:
Put the flour, egg and breadcrumbs on separate plates.
Coat the chicken in the flour, then dip into the egg and finally into the breadcrumbs.
Heat the oil in a frying pan and fry chicken breasts for 5 minutes on each side, or until golden and cooked through.
Remove from the pan with a slotted spoon and leave to drain on kitchen paper.
Slice the chicken diagonally and serve with the sauce and Japanese rice (or any short grain rice).
This is what it should look like! (The image below is the aspirational version – but you can do it ;b )
Image from bbc.co.uk
Perfect jaffa cakes?
So in a bit of a departure from spicy food, this is reputed to be the best jaffa cake recipe out there better than the usual shop-bought versions – a bold statement and one that is sure to divide opinion. Anyway, give it a try, and see what you think.
Ingredients (Makes 12):
For the jelly:
2 medium oranges
Juice of 1 lemon
1 tbsp caster sugar
2 sheets of gelatine
200g dark chocolate
For the sponge :
15g butter
1 large egg, at room temperature
1 large egg yolk, at room temperature
40g caster sugar
40g plain flour
Drop of almond extract (optional)
Method:
Zest one of the oranges into a measuring jug, then squeeze one of them in there, too. Add the juice of the lemon, then enough extra juice to make the total volume up to 160ml. Put in a small pan with the sugar and heat gently, stirring occasionally to dissolve the sugar. Take off the heat.
Meanwhile, soak the gelatine leaves in cold water until soft, then wring out well and stir into the warm juice. Line a 20cm cake tin with clingfilm, then pour in the juice and chill until set.
Heat the oven to 180C and grease a 12-hole muffin tin very thoroughly. Melt the butter and set aside to cool slightly.
Whisk the egg and yolk with the sugar at high speed for 5-8 minutes until very thick, and a little dribbled on to the surface forms a solid ribbon for a few seconds before sinking. If using a food mixer for such a small amount, it's wise to stir it all together very well first.
Sift the flour over the top (trust me, it's worth the effort) and very gently fold in with a large metal spoon in a figure-of-eight motion, making sure you get to any pockets that might have sunk to the bottom while retaining as much air in the mixture as possible. Pour in the butter and almond extract if using, plus a pinch of salt, and fold to combine.
Divide between the muffin tin holes, making sure you don't fill them completely, then bake for about 8 minutes until lightly golden and set. Leave to cool completely.
Cut out 4cm rounds of jelly (if you don't have a cutter small enough, cut around a small jar lid or similar) and place in the middle of each cooled cake. Put in the fridge while you melt the chocolate.
Put the chocolate in a heatproof bowl set over but not touching a pan of simmering water and stir to melt. Allow to cool until still liquid, but just warm, then spoon over the cakes, smooth the top as best you can and leave to set slightly. Use a fork to create the criss-cross pattern on top of the jelly, but be gentle! Allow to set before eating.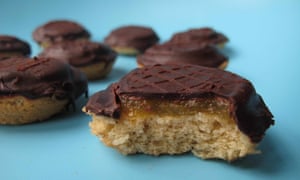 Photograph: Felicity Cloake for the Guardian
Horseradish and mustard beef casserole
I must admit that it has taken a fair amount of time for me to start to eat red meat (other than in the form of mince or burgers). So having had this recipe recommended by another red meat non-fan, I thought I'd give it a go and get some decent beef from the local butcher.
Ingredients (serves 6)
3 tbsp sunflower oil
1.5kg/3lb 5oz braising steak, diced
3 large onions, roughly chopped
6 garlic cloves, crushed or finely chopped
300ml/10fl oz beef stock
50g/1¾oz plain flour
300ml/10fl oz dry white wine
3 tbsp Worcestershire sauce
1 tbsp light muscovado sugar
salt and freshly ground black pepper
500g/1lb 2oz chestnut mushrooms, halved
3 tbsp Dijon mustard
3 tbsp creamed horseradish sauce (although I didn't use any…)
3-4 tbsp double cream (optional)
Method
Heat 2 tablespoons of the oil in a deep, heavy-based, flameproof, lidded casserole over a high heat. Add the beef, in batches if necessary, and fry for 4-5 minutes, or until browned all over. Remove the meat from the casserole using a slotted spoon and set aside.
Heat the remaining oil in the pan, add the onions and garlic and fry, stirring well, for 4-5 minutes, or until softened, scraping up any browned bits from the bottom of the casserole using a wooden spoon. Stir in the beef stock.
In a large bowl, whisk the flour with a little of the wine until smooth, then gradually pour in the remaining wine, whisking until combined to a smooth batter with the consistency of double cream.
Return the browned beef to the casserole, then pour over the wine and flour mixture. Bring to the boil, stirring until thickened, then add the Worcestershire sauce and sugar and season, to taste, with salt and freshly ground black pepper. Cover the casserole with the lid, reduce the heat until the mixture is simmering, and simmer very gently for 2 hours, stirring from time to time (alternatively, cook the casserole in a low oven).
After 2 hours, add the mushrooms, return the mixture to the boil, then cover again, reduce the heat until the mixture is simmering, and simmer for a further ½ hour, or until the meat is tender.
Mix the mustard, horseradish and double cream (if using) in a bowl until well combined. Just before serving, stir it into the casserole. Serve with mashed potatoes and steamed vegetables.
So there you have it. A Mary Berry casserole. And I can assure you, it's enough to convert a non-red meat eater, if not necessarily the vegetarians out there…
Image courtesy of the bbc
Chicken and butter – butter chicken. Better butter chicken…
So, here's the thing…. I really, really like Mother India's Achari Chicken. Really. There's something about it that it is citrus-y, chicken-y and spicy. Just, you know? So… When jfb0 bought me the Mother India cook book, the first thing i went to was butter chicken. Wait. What? yeah…. This is a long one, but worth it. So worth it…
Ingredients:
30g Ghee (clarified butter)
1 medium onion (chopped)
3 green chillies (chopped)
2 gloves of garlic (chopped)
25g ginger (chopped)
6 cloves
5 cardamom pods
1/2 tsp roasted cumin seeds
1/2 tin of tomatoes
1/2 tbsp tomato puree
1 tbsp yoghurt
1 tsp salt
1/2 tsp red chilli powder
1/2 tsp ground turmeric
1 tbsp sunflower oil
4 chicken breasts
300ml double cream
20 whole almonds (shell off)
Salt and black pepper to taste
Method
Heat the ghee and add the onion until soft and translucent.
Add the chillies, garlic and ginger.
Cook over a low heat for 5 minutes or so.
Add the tomatoes and puree.
In a separate bowl, beat the yoghurt to remove any lumps.
After 5 minutes more cooking, add the yoghurt, chilli powder and turmeric to the pan.
Add a little water if the mixture starts to stick.
Preheat the oven to 190 degrees/gas mark 6.
Heat oil in a frying pan, and sear the chicken until golden brown.
Add salt and pepper.
Add the chicken to the curry sauce, and cook for 10 mins.
Add the cream, stir, and cook for 5 mins.
Decant everything into a roasting tray and sprinkle with almonds.
Roast for 12 mins.
Serve…. omg….
Image from NDTV.com (because I couldn't get a decent picture of the dish without my lenses steaming up…;b )
Chicken and galangal soup (Dtom khaa gai)
Sweet and sour, spicy and creamy. This is soup!
Ingredients:
2 cups chicken stock
1 cup coconut milk
1 cup coconut cream
Pinch of salt
1 tsp palm sugar
2 stalks lemongrass, trimmed
3 red shallots, peeled
2 coriander roots, scraped
2-3 bird's eye chillies
10 slices galangal
3 kaffir lime leaves
100g chanterelles, straw or oyster mushrooms (torn)
100g skinless chicken breast, sliced
2-3 tbsp fish sauce
1 tbsp lime juice
4-5 extra chillies (for garnish), bruised
1 tbsp coriander leaves
Method:
Combine the stock with the coconut milk and coconut cream.
Bring to the boil, season with salt and sugar.
Bruise lemongrass, shallots, coriander roots and chillies in a pestle and mortar.
Add to boiling stock, along with galangal and lime leaves.
Simmer for a few minutes, then add the mushroom and chicken
Turn down heat and simmer until the chicken is cooked.
In a serving bowl, mix fish sauce, lime juice extra chillies and coriander leaves.
Ladle in the soup and stir to check seasoning. It should taste rich, salty, sour and hot.
Enjoy. Seriously, you will enjoy.
Picture from David Thompson's "Thai Food".
head image made with canva.com